LiVES - LiVES is a Video Editing System
This is the official home of
LiVES

-
the VJ and Video Editing system.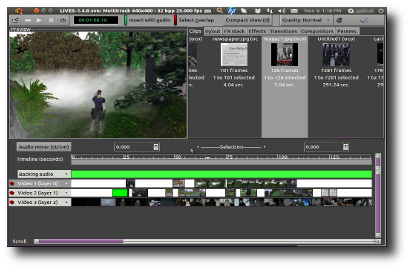 LiVES

is a Free, Open Source video editor *and* a VJ tool.

LiVES is a Video Editing System. It is designed to be simple to use, yet powerful. It is small in size, yet it has many advanced features.

LiVES mixes realtime video performance and non-linear editing in one professional quality application. It will let you start editing and making video right away, without having to worry about formats, frame sizes, or framerates. It is a very flexible tool which is used by both professional VJ's and video editors - mix and switch clips from the keyboard, use dozens of realtime effects, trim and edit your clips in the clip editor, and bring them together using the multitrack timeline. You can even record your performance in real time, and then edit it further or render it straight away.

For the more technically minded, the application is frame and sample accurate, and it can be controlled remotely or scripted for use as a video server. And it supports all of the latest free standards.

LiVES is good enough to be used as a VJ tool for professional performances, and as a video editor is capable of creating dazzling clips in a huge variety of formats. For a full list of the features of LiVES, look at the features page.

Check out some of the other pages here for screenshots, demo videos, add-ons, and of course, you can download and use it for free !



Further information.
If you are interested in the project, you may like to join the LiVES users mailing list. You will receive regular updates on the progress of LiVES, news about events, general discussion, tips, etc. If you have any questions or comments, please feel free to voice them there.
For developers, there is also a development mailing list for discussion of more technical (code and format related issues).
There are various discussion forums for LiVES
See also the SourceForge project page, where you can make bug reports or request new features.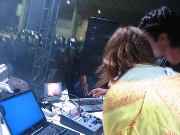 LiVES website © Copyright Gabriel "Salsaman" Finch.
Site maintained by Salsaman and VJ pixel.
All images on this site are used with permission of their owners.